Part 1 Interview: A Third Axis to the Cosmetics Industry! SUQQU's Overseas Strategies to Make a Breakthrough in the World View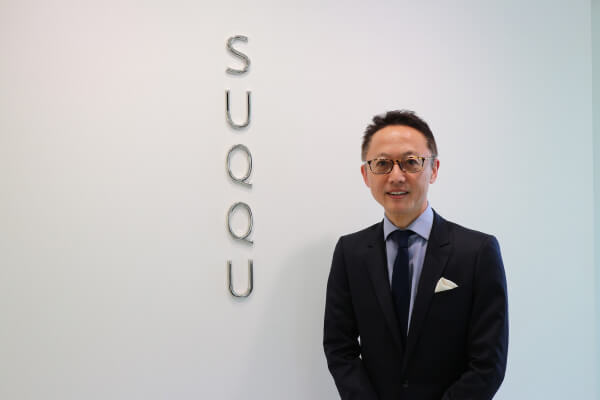 This year's Met Gala theme, "Heavenly Bodies: Fashion and the Catholic Imagination"  celebs dressed in papal robes, iconographic religious vestments in rich colours and glamorous makeup on the red carpet. While the focus was mainly on the vetements, makeup and hair also became the hot topic of discussion. Among them, Japanese makeup brand, SUQQU actually created Jennifer Connelly's red carpet look that day; unbeknownst to the public in Japan. Now that the word 'J-Beauty' (Japanese Beauty) is being heard more often, SUQQU is steadily making its presence known in the West. This time, we exclusively interviewed Yamazaki Hirohisa, the marketing manager of SUQQU about the progress and future expansions overseas.
Of all places in the West, could you please tell us why you've chosen to start out in London?
"SUQQU embodies the adult woman who is independent and knows her values; a brand that debuted for those pursuing the true essence of quality and are unsatisfied even after plowing through the lot of European beauty brands. With that in mind, we thought to satisfy the needs in Europe; who's mature in the cosmetics industry. London is an international city and prestigious department stores such as Selfridge and Harrods have all the cosmetics industry gather in a fierce competition. In this competitive environment, I thought if SUQQU managed to prove itself in giving product satisfaction through customer requirements, then we have already established ourselves in someway. Even though the thought of it was difficult at first, we still chose to do it."
What kind of efforts were made when you first entered the international market?
"First, we chose to not over do it when adapting to the environment, whereby changing the brand, as we want to maintain our values ​​in our products and to also face local customers directly. When entering a new environment, the use of local celebrity models as a brand spokesperson is a practice so often for many brands, but SUQQU deliberately uses promotional photos taken in Japan. We chose not to use the 'stereotypical oriental beauty' for the models in a Westerner's point of view, and instead, chose those that were recognized by both Asians and Westerners. Although such an approach took time in the beginning to sink in the market, as awareness was raised, we gained more brand understanding and recognition. In terms of products, we launched a limited edition British eyeshadow palette exclusively to suit the Western palette in 2016. In the future, we also have plans of further developing our foundations by conveying different hues, textures, and colours to create suitable products for people of all skin tones. Let the guests not feel rejected because of the colour fit, but to recognize our efforts and the qualities we stand for."
Were there a lot of Chinese customers coming to the stores in London?
"More than half of our customers are Chinese and we're evermore thankful for the popularity in China which has brought more customers into our London stores."
Are there any particular favourites that's popular in London?
"As far as sales are concerned, the eye and base makeup are roughly the same in popularity and the 'Extra Rich Cream Foundation' released in the fall of 2016 along with the 'Nude Wear liquid' foundation released this year was a huge hit and was always waiting for new stocks. The popularity is due to the effects of hydrating and glowy feeling that it gives and it's extremely light and comfortable like a veil. The colour and the base makeup are the main leads in sales, however we've also have positive feedback for our GANKIN facial massage cream. Europeans seem to be very in to the massage cream and are saying that it creates a better base for applying makeup for a beautiful finish. London's Selfridge stores currently has more than 14 appointments per day for facial massages. The contrast between the before and after the massage is very satisfying and pleasant for the customers. With the use of our GANKIN massage cream, the brand's skin care series in turn is also receiving more attention."
Are all SUQQU global strategies created in Japan?
"Yes, all of the brand's global strategies are now carried out in Japan. In order to welcome the 15th anniversary, we've also attracted a large number of talented people to join us and will continue to become a true international brand. We also hope that we can develop products that are suitable for people all around the world and to invite foreign staff to participate in promotional activities in Japan."
It seems that SUQQU has gained recognition as an established Japanese brand. What kind of impression will SUQQU use to increase brand awareness? What kind of position does it want to be in the world market?
"Looking at other domestic brand competitors, they seem to be more inclined to create an image that tries to adapt to the global stereotypes in different parts of the world while we hope to do the opposite. We want SUQQU to define Japan's idea of oriental beauty. What SUQQU hopes to achieve is to provide a 'third option' for the world's cosmetics market. Most people in the industry are looking at the two major axes: European and American brands. In an effort to shroud the tide of consumerism, we only hope that we can achieve the culmination as a high-end cosmetics brand. I don't want to hide the elements of what is beautiful in Japan and the orient and I feel that's it's important to convey that sense. We want to establish ourselves in the world as a Japanese-oriented brand. Although there aren't many counters overseas, we hope that within the department store, that we are in line with other top European cosmetics that we are part of the top 10 or even top 5. Like other top European cosmetics, we must become indispensable as a brand that showcases our views of oriental beauty."