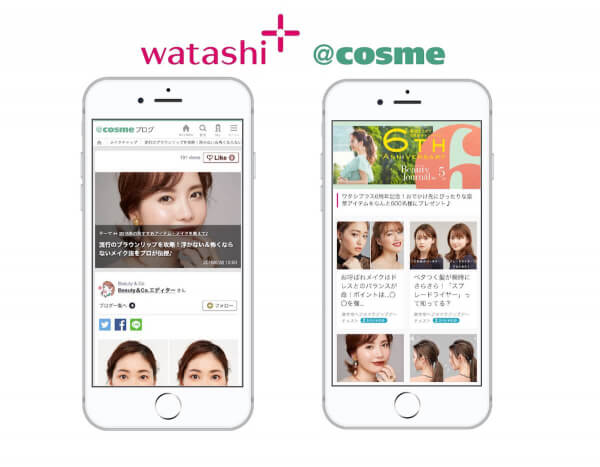 istyle, which manages the cosmetic and beauty information site "@cosme (At Cosme)", has started a collaborative project with Shiseido's beauty site "watashi+ (Watashi Plus)".
Shiseido's watashi+ boasts more than 3 million members according to sources since June 28th and @ cosme has monthly visitors of 16 million. Together, Shiseido is utilizing their expertise in beauty know-hows and watashi+ contents with @cosme's platform to increase their interactive events and a go-to information portal for beauty, skincare, and lifestyle.
A new experiential media service is also being introduced called "Beauty & Co." which will provide article contents that consult beauty experts at Shiseido for how-tos and to find solutions to problems or questions people face. Along with it, Shiseido is releasing information from media conferences on their new products from their brand subsidiaries while istyle will be providing makeup courses, product consultations, participatory contents at their @cosme select shops.
@cosme has a database of approximately 310 million views per month, with 32,000 domestic and overseas brands, a 300 thousand cosmetics database, and a large number of beauty product reviews that has accumulated more than 14 million comments that makes @cosme Japan's largest beauty social network to have been established. Last month, they've tapped into Korea's beauty market, opening the J Beauty Park as their first expansion overseas.