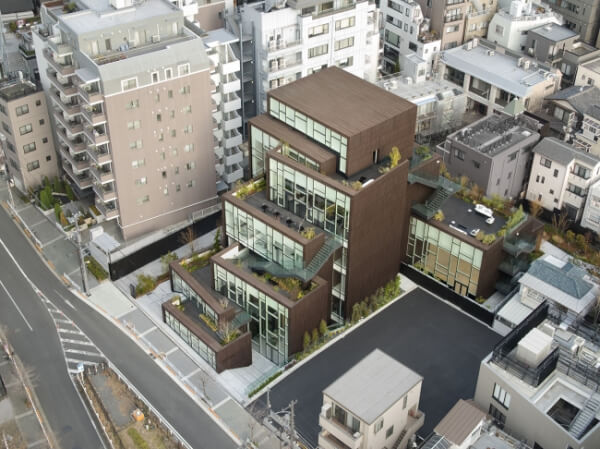 As mentioned in previous articles, ONWARD HOLDINGS has opened a new building KASHIYAMA DAIKANYAMA located in Daikanyama, Shibuya on April 2, which features spaces involving fashion, food, design and art that stimulates the five senses. While looking forward to its great success, there are three things that I'm a bit concerned about.
First thing's first is the name, KASHIYAMA DAIKANYAMA. Why is the building named as Kashiyama, a name seldomly used in other buildings from the same company? Its true that Junzo Kashiyama is the founder of the company, however the company rarely mentions the family name in its business. Changing the company name from 'Kashiyama' to 'ONWARD KASHIYAMA', which some even suggested should just be 'ONWARD', is an act to sever ties with the Kashiyama family. It's surprising that a company that have been avoiding the use of the Kashiyama name now in its new building demonstrates to mark the start of a new era for the company. Is it just because 'Kashiyama' is a play on word with 'Daikanyama' or does it mean something more?
Second, is the use of the building. ONWARD HOLDINGS has promoted effective use of its headquarters building in Nihonbashi as its further development in real estate business when the building was completed on the company's 90th anniversary. Moreover, the land in Daikanyama is bought with the profit made by selling the land in Ginza which had long been owned by the company. In light of the above, I wonder if the company did have a plan on constructing a high-rise building and renting it out rather than launching a new facility as the symbol of its new era. Assuming that renting out 50 units for 1 million yen a month each, the company would earn an annual rental income of 600 million yen. Comparing with its ordinary profit of 5.9 million in February 2018, it is definitely not a small amount. Abandoning the choice in earning by such a stable rental income, it can be said that the company is investing in its new facility with a welcoming enthusiasm and high expectations for its new chapter in history. However, I would say it is an unusual decision for ONWARD HOLDINGS.
And last but not least, the design of the building. The building was designed by Ooki Sato, the representative of design office, nendo who also was in charge of the interior design.  I find the building rather similar with that owned by Louis Vuitton in Omotesando designed by Jun Aoki.
The latter was built with the concept of "a pile of several trunks" while the former, according to Sato, is based on an image of "a small hill consists of a pile of boxes". As a designer of Louis Vuitton, Sato must know how the brand's shop in Omotesando looks like - and that is the problem, unless the design of KASHIYAMA DAIKANYAMA is approved by Aoki.