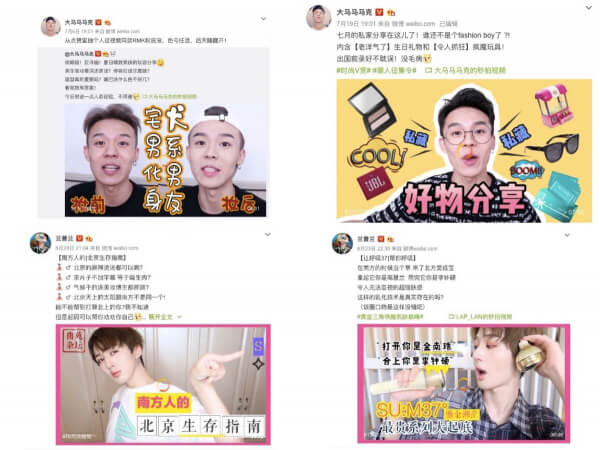 In recent years, the influence of male idols and Korean pop culture shows the increase of men using cosmetics in China. Entertainment shows may be part of the factors, but the younger generation of Chinese men care more about their appearances to fulfill the current lifestyle trends. Social media has an obvious impact and with the popularity of instagram, foreign male beauty youtubers, and male beauty bloggers, China's popular social network towards beauty has increased. Men's makeup generally advocates on the modification of eyebrows and the creation of skin texture that is pursued by Korean idols which is the major driving force in male cosmetics within the younger generation. What's more, in the recent World Cup, netizens were discussing about South Korea's goalkeeper's rumored makeup applied during the game. Apparently, he had used "BB cream", an all in one skin care and makeup hybrid that promises to do the job in hydrating, sun blocking, concealing, and improving skin texture. The product that he used was the number one searched topic on search engines.
According to a joint report published in June by China's e-commerce, Vipshop and JD.com, the era of the "non-gendered restricted" consumption in China has arrived. The report states that with the improvement of male self-image awareness, traditional gender-based consumer demands have changed. The data in the report shows that the current market for men's skin care products in China has reached RMB 10 billion (**$US 1.48 billion) and the market value will increase to RMB 15.4 billion (**$US 2.29 billion) in 2019. Among them, the proportion of men's beauty products purchased at Vipshop shows male users as high as 96%, which was a significant increase compared to three years ago. One of the most popular items were facial masks, makeup removers, followed by BB creams, lipsticks, and eyebrow pencils.
Compared with South Korea and Japan, the development of China's beauty industry is still relatively lagging behind. Even within the women's cosmetics, there is still room for development in finer quality professional products. However with that being said, the appearance of a single item such as the facial mask that had set off a national craze recently still shows that Chinese consumers are somewhat blind and confused about the concept of beauty. But in any case, the pursuit and awakening of Chinese men's beauty in the near future is also the pursuit of "wealth" and "success" playing an important part of a lifestyle.
**1 CNY = 0.148142 USD (July 23 2018) courtesy of XE Currency.com
Minoru Mami

Fashion weather forecaster