Ginza's Two Monolith Stores is now adding its Third, GINZA SIX 1st Anniversary Opening Sales of 60 Billion Yen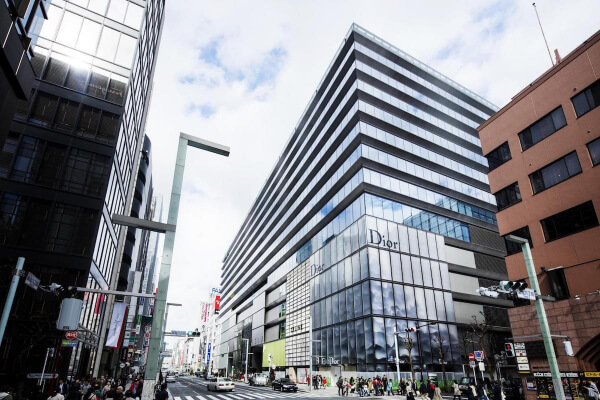 GINZA SIX (G6), which celebrated its first anniversary on April 20th, announced that it has achieved the target sales of 60 billion yen for the first year with 20 million visitors. Tokyo Midtown Hibiya which opened on March 27th's first yearly sales goal was 13 billion yen and it's commercial area measures about 18,000 square metres. Its next door neighbor, Ginza, G6's target sales for the initial year aims for 60 billion yen with a commercial area of 47,000 square metres. Comparing the size of these two becomes a complete different story which surprised reporters when G6 announced that it has reached its target sales of 60 billion yen. In a TV show program, reporters asked people in Hokkaido where they wanted to visit the most when they go to Tokyo and most of them replied, "G6!".
When Matsuzakaya closed, sales total was estimated at 15 billion yen while Ginza Mitsukoshi and Matsuya Ginza were at around 70 billion yen at the time. However, G6 is not a department store, but a shopping mall in the city center. The area is almost double the size compared to Matsuzakaya who has an area covering about 25,000 square metres. Thus, G6 has now tied in as one of the top 3 with Mitsukoshi in Ginza, and Matsuya. In regards to G6, the two other companies sees this as a friendly rivalry but more than that, sees this as a positive synergy.
G6's parent company, J.FRONT RETAILING, reported that its sales increased by 3.8% from 2016 to approximately 469.9 billion yen, and tax-free sales of department store sales increased by 1.6 times to approximately 47.9 billion yen. Since G6's tax-free sales ratio averages around 30%, if sales are expected to increase in the future, it's a safe bet to rely on the sales of tourists and VIP customers that Matsuzakaya has on hand. Meanwhile, G6 plans to combine the two measures and has recently announced its partnership with overseas luxury shopping malls all the while introduce to each other their VIP customers. Although it's believed that sales for newly opened stores in the first year are unable to generate more than they can in a short period of time, G6 is probably capable of overturning this theory. We'll just have to wait and see.