Japan|Vivienne Westwood Documentary "Westwood: Punk, Icon, Activist" Airing Nationwide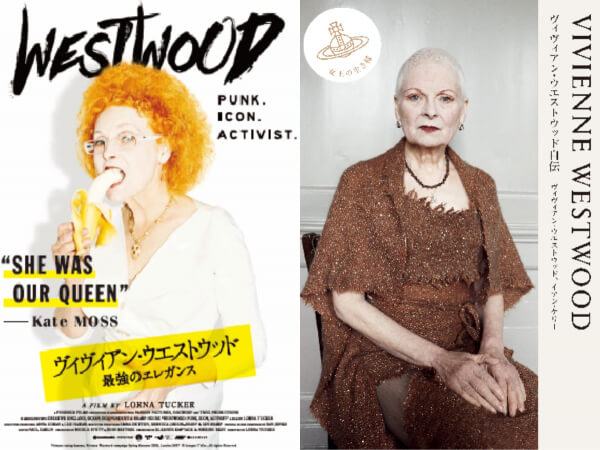 Documentary film "Westwood: Punk, Icon, Activist" (Distributed by KADOKAWA) has been screening at movie theatres nationwide such as Shinjuku Baltic 9 and Kadokawa Cinema Yurakucho since last December 28. Born on April 8, 1941, those in the fashion world know Vivienne Westwood as the famous "queen of punk fashion". As a former art teacher, she joined the fashion industry when she became more involved with her husband, Malcolm McLaren, manager of punk band the "Sex Pistols". Her career took off from designing stage costume for the punk band and also opening her eponymous brand located on 430 Kings Road establishing herself as the first lady of punk. After her separation with Malcolm, Vivienne went off injecting punk aesthetics with French court fashion bringing back the bustle, crinoline, corset, etc. into desirable dailywear. Especially in Japan, her influence soared when manga artist Ai Yazawa created the "NANA" manga series (which later adapted into a movie), where her characters were wearing Vivienne's fashion making an impact on the lolita and gothic subculture.
Vivienne is also an environmental advocate and actively uses her collections and catwalk as a platform to send out messages wherever she can. Last year in November, a joint campaign with Greenpeace of International Environment NGO held an event called "GET THE LIFE!" in Tokyo at Laforet Museum Harajuku.
Coming back to the documentary, the film examines Vivienne's life in her most intimate moments with surprises and there were some interesting points in the film that I'd like to touch upon. (A bit of spoilers ahead, be warned)
For firsts, Vivienne Westwood was almost forced into bankruptcy due to the shortage of funds in 1985. CEO Carlo D'Amario asked his acquaintance, Elio Fiorucci for a favor and received 30 million pounds from Giorgio Armani to keep the brand afloat, and when Rolling Stone Malcolm McLaren knew of this became furious. Perhaps this case seems to have decisively created a rift between Vivienne and McLaren?
The second was Vivienne's eldest son, Ben, who was opposed to Carlo D'Amario's expansion strategy. He approached his mother asking, "It's either you choose Carlo or me." and Vivienne responded by cutting him off. Normally you'd choose your son, however this is Vivienne we're talking about. Ben left the company with no choice, however managed to tie a license agreement for his mother with Japan's largest general trading company, Itochu Corporation. Although Carlo seemed to be strongly opposed to this, Ben pushed through regardless. "With this, my mother won't need to worry about her expenses and make a living out of it." Who knew there was such a backdrop with the licensing agreement with Itochu.  And finally my last point. Confessions from supermodel Kate Moss, says "Vivienne said to me: if I were to love a woman, it would be none other than you." Ignoring the fact that they're both English, I think Vivienne and Kate certainly do feel similar in some ways; akin to their chemistry. I highly recommend this film to not only fashion aficionados, but to people who'd appreciate the amazing life of a fascinating 77 year old dame. If that's not enough to satiate your curiousity, there's also the "VIVIENNE WESTWOOD Autobiography" from DU BOOKS currently on sale.