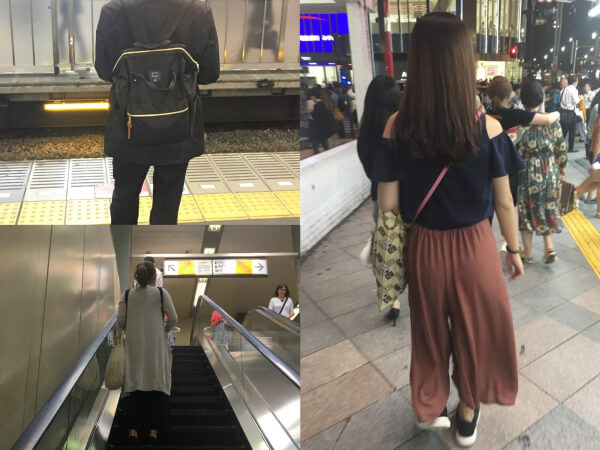 Recently, I started observing the styles of young people walking in the streets with their waist rubber-banded pants and skirt with a set of sneakers in blacks, greys, beige mixes and I can't help but feel this incredible sense of ease and steadfastisity against judgemental eyes or restriction for gender binaries. This, is where I got the idea of " zero gravity"fashion. A few years ago in the street fashion scene, the "anello" backpacks were at the height of it's popularity, however this year, a small oblique bag going by the name of "sacoche" (which means 'handbag' in French) is seen almost everywhere and this, exactly fits in to the term I coin as "zero gravity" fashion.
Fashion primarily differentiates a person's individuality, however in Japanese culture, the majority have developed a consciousness of not wanting to stand out and it's best to be 'normal' rather than be unyielding and fashion brands that cater to this genre have been widely accepted.  Due to this, many of these mysterious brands are born and ultimately, defines "zero gravity" fashion. A few years ago, the term "Normcore" which started with people (namely metropolitan hipsters) in the streets who deconstructed fashion by being ironically 'anti-fashion' by dressing in boxy, oversized sweatshirts, and plain jeans. It made its way upwards in the fashion hierarchy gradually sweeping the market and is continuing its evolution. It seems that the majority nowadays just wants to be able to sit back and chill.
However in the past decade, handbags from Gucci, Balenciaga, and Louis Vuitton are reminding people of its position in the fashion hierarchy creating the "crazy" types and going 'anti-zero gravity' in the flow of things.
Lately, Louis Vuittoncollaborated with former American Vogue creative director, Grace Coddingtonfor a cat motif handbag. They've also had collaborations with contemporary artist, Takashi Murakami and now, with the founder of OFF - WHITEand appointed, Louis Vuitton menswear designer, Virgil Abloh. It feels as if "crazy" fashion led by Lacroixand other known designers in the early 90s are appearing again on the market.
It's interesting to note that the flow of "zero gravity" and "crazy" fashion, which are contrary to each other, are simultaneously appearing on the market. But isn't this what makes fashion all the more so intriguing?
Manabu Takamura

Minimal Inc. President/SEVENTIE TWO Publishing Director