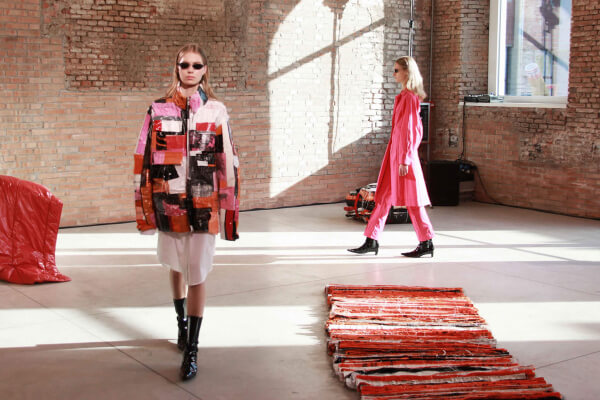 Known to the world as the epicentre of the manufacturing industry, Chinese fashion has changed from "Made in China" to now "Designed in China". Many Chinese independent fashion designers are creating a new direction in the industry. In addition to already known designers who have gained much attention at Paris fashion week such as Uma Wang and Guo Pei, other young designers who have studied overseas are returning home to create their designs in China.
M essential designer, Muki Ma from Tianjin, China, graduated from Central St. Martins in London and after years of experience at Chinese fashion brand EXCEPTION de MIXMIND and Japanese fashion brand Yohji Yamamoto, he launched his own brand "M essential" in 2014. Using soft materials such as lace and velour, its classic, elegant, constructive design with a hint of mystery is loved by mature Chinese women. With its successful debut at New York's select shop, OPENING CEREMONY, M essential is now sold world wide in select shops and department stores.
Both designers Tommy Zhong and XU ZHI are also graduates of Central St. Martins. In comparison to M essential, Tommy Zhong's brand concept is a little more youthful, with a mature approach to its design technicalities. The man himself, designer Tommy Zhong and his design partner, Jenny Nelson, are often inspired by contemporary art which takes off in a daring and experimental direction. In the spring and summer collection of 2018, they used recycled plastic and recreated it into wearable garments.
Even amongst the new generation of Chinese designers, XU ZHI intrigues audiences with their tassels and textiles which are mainly all handmade. Its designs expresses women's strength by combining artistic treatments and sophisticated silhouettes.
Independent fashion designers such as Masha Ma, Angel Chen, RICOSTRU and many more are sweeping the global fashion industry. As the new generation of Chinese consumers steadily mature, China's fashion has reached a considerable level from design to production. Young designers are now vanguards in creating a new perception of "Made in China" than the stereotype we are all familiar with.