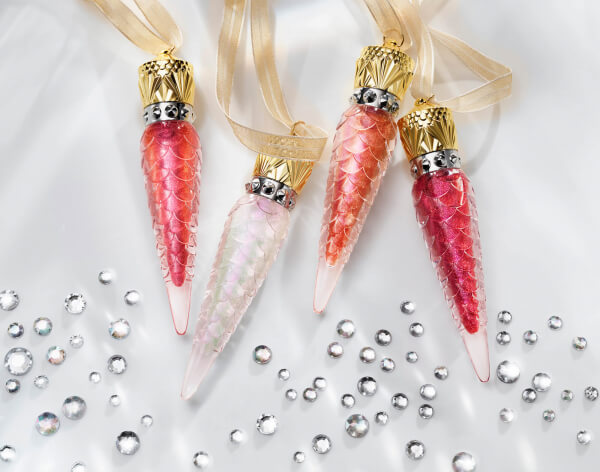 High-end stilettoed red lacquered soled Christian Louboutin's make-up series launched its new lip glosses on June 1st. Four new lip gloss is a part of the collection from 'Loubilaque Lip Gloss' and a separate single lip glaze called 'Loubiriroir.'
The Loubilaque Lip Gloss is inspired by the stars in the Milky Way and shimmers with a stunning pearl-like shine. Depending on the angle and lighting, it reflects pearlescent particles that create a three dimensional glow. They come in four different colours: transparent "Crystal Queen", rose coloured "Iriza", lavender "Doracandy", and burgundy plum, "Dollydola".
Loubimiroir on the other hand is a clear and colourless lip lacquer inspired by the glossy PVC material used in Louboutin's signature red soled stilettos. Under the reflection of light, the gloss reflects like a mirror. It can be used on bare lips or topped with other lip colours.
Also worth mentioning, the decedent package design of the lip gloss bottle inspires a sense of mystery and fantasy. The bottle is covered in mermaid scales and the cap is a crown influenced by an oriental art deco touch. All lip glosses are placed in beautiful black boxes at the time of purchase and will definitely make anyone's eyes sparkle whether it's a gift or an indulgence.