CN|FILA Brand New Spokesperson Roy Wang from TFBOYS in a Limited Edition Sneaker Collaboration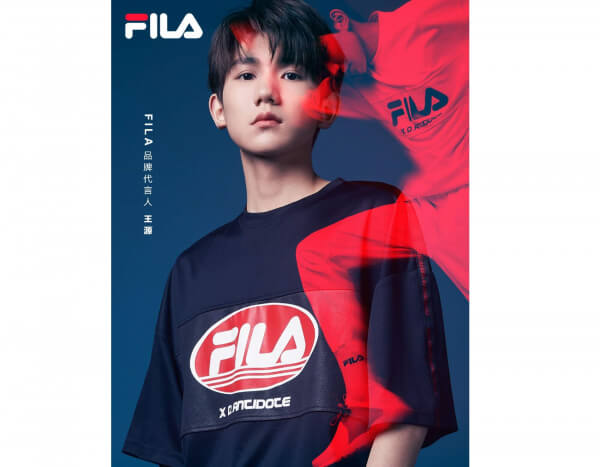 On June 11 2018, Italian sports origin brand, "FILA" announced its brand spokesperson ーChina's super popular idol TFBOYS member, Roy Wang. The limited-edition sneakers "MIND ZERO x ROY WANG" designed in collaboration with the idol was released the following day. Roy is of the Millennial generation and the collaboration between the two is an attempt to inject new vitality into the brand in the young consumer market.
FILA was attracted to Roy's creative spirit and ambition in trying to cross over in different fields and in addition, he was named one of the 30 most influential teenagners in the world by Time magazine and was on the cover of Fashion Bazaar as the youngest celebrity to appear.
The sneaker "MIND ZERO" has recently received notable attention in the sports industry and is based on the FILA iconic shoe motif, MIND BENDER based on the "FILA" star shoe "MIND BENDER" in the 90s. Roy contributed a variety of ideas for the designs for the shoes: The front of the tongue has Roy's hand-painted design, the logo is inspired by his initials "R", and the two number encryption on the back the telephone number "0039+015" from FILA's  birthplace Biella and the telephone area "0086+023" of Roy's hometown, Chongqing . The upper is pure white made out of TPU that gives a luminous effect along with an accented dab of his favorite colour, green. The shoe box is printed with the logo designed by Roy with his signature.
[MIND ZERO x ROY WANG Limited Release Information]
Shop for sale: 353 Nanjing East Road, Shanghai, China FILA brand flagship store
Online sale: FILA official website / FILA Tmall flagship store
Time: June 22, 15:00
Price: RMB 780