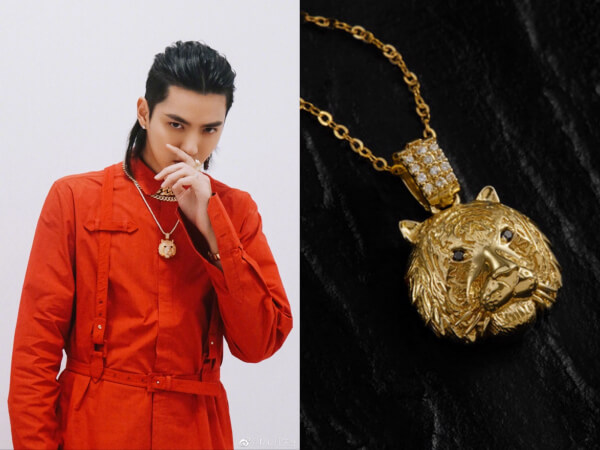 photo credit: Kris Wu Official Weibo Account & A.C.E Tmall store
Chinese hip-hop singer and ex-member of Korean group EXO, Wu Yifan (aka Kris Wu) launched his own jewelry brand A.C.E (Accessory Culture Evolution) at the end of last year with 16 original designs. Featuring necklaces, bracelets and earrings, many of which uses the dragon and tiger motifs merging hip hop and Chinese styles for a new interpretation. The brand has four collection, namely the "Fearless Series", "ACE Series", "Tennis Series" and "Customize Series". After establishing A.C.E, they opened an official flagship store in Tmall. Not surprising, but they're also on the high end of the price tag.
In fact, Kris has shown his interest in wearing jewellery from his debut. Unsurprisingly his unique fashion sense was bound to be put to use. Last year, he was appointed as the brand ambassador by Louis Vuitton. He also wore the dragon necklace from A.C.E while participating at the Louis Vuitton reception events. A.C.E jewelry utilizes mostly 925 silver and 18k gold, as well as diamonds and precious stones. Therefore, the highest price costs more than 20,000 yuan (US$182) , and the lowest price are the TENNIS earrings at 780 yuan (US$116). Among them, the limited-edition "Longyin" (dragon's song) chain necklace is priced at 19,800 yuan (US$2,936), but it was sold out soon after the flagship store opened. On his personal SNS account, he also posted a photo of the A.C.E necklace worn by Verbal, the head of the famous Japanese brand, AMBUSH.