Japan|SUQQU Spring Color Collection 2019 Inspired by Nature's Phenomenons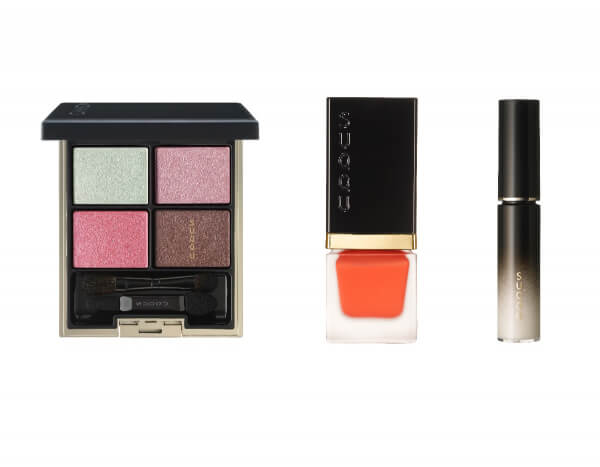 Japanese luxury makeup brand, SUQQU has given us of what's to come for spring 2019. Inspired by the natural phenomenon of light rays streaming through openings in the clouds, called "Crepuscular rays", microscopic pearls are used in the make-up in a gentle and sinuous array of colours. Popular items among SUQQU-ists not only have new limited edition of colours, but also a number of brand new items are in the lineup.
The popular quad eyeshadow palette, "DESIGNING COLOR EYES" (2 new shades, each 6,800 yen +tax), liquid eye shadow "GLOW TOUCH EYES" (3 new shades, each 3,700 yen + tax), and "NAIL COLOR POLISH" (3 new shades, each 2,500 yen +tax). It is worth noting that this season's new make-up items, "SHIMMER LIQUID BLUSH"  (5 shades, each 3,900 yen +tax), contains a substantial amount of microscopic pearls and a blend of four different beauty oils, bring cheeks a full moisturizing glow. In addition, the new items include liquid eyeliner "COLOR INK LIQUID EYELINER" (6 shades, each 3,800 yen + tax), and lip glaze "STAIN LIP LACQUER" (5 shades, 3,800 yen +tax). All new items will be available nationwide on January 18, 2019.
In addition, the base makeup series launched two new products: "RADIANT CREAM CONCEALER" (3 shades, 5,000 yen +tax) that's translucent and has a clean finish; and a portable loose powder "RETOUCH PRESSED POWDER" that conceals and adds luster , 6,500 yen +tax), are convenient items that can be carried on the go to maintain a perfect complexion. The new products will be launched nationwide on March 1, 2019.