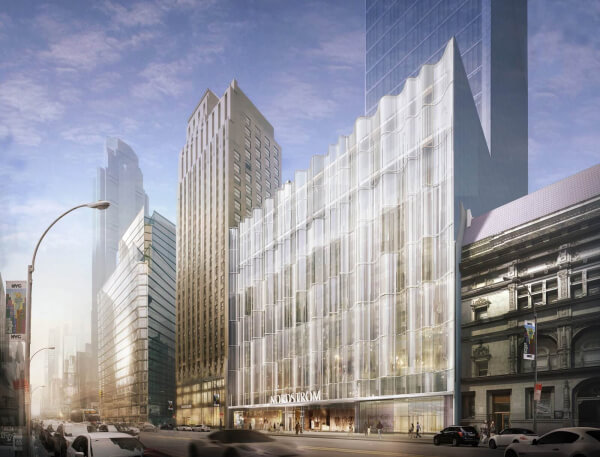 Nordstrom department stores is expanding its floor spaces. According to the announcement by vice president of the women's apparel division, Tricia Smith, it aims to offer women sizes 00 to 24 * in all operated brands for the next two years.
Specifically, they're developing sales strategies that respond to the women's market by providing a wide range of proper sizing in both brick and mortar and online stores. In all 30 domestic Nordstrom stores, sizes 2 and size 12 mannequins have also been implemented and in addition, a digital signage to advertise and inform visitors about its wider size range in comparison to before. Brands that normally start from sizes 2 to 12 such as "Rag & Bone", "NIKE", "adidas", "Rebecca Taylor", "Theory" have been requested to incorporate additional sizing from 00, 0, 12, 14.
In the circle of clothing manufacturing, the term "Vanity sizing" describes the labeling of clothes in sizes smaller than the actual cut of the garment. For example, sizes 34 trousers will actually be sizes 36. The efforts in eliminating this sizing notion was called for when many brands are set out to produce articles that make consumers feel the "satisfaction in wearing a size smaller than the actual size". In order to avoid the phenomenon, Nordstrom's digital signage creates a search system that will display the proper sizes that matches the customer's closest fit. Different brands have different sizing notions, and as mentioned above, some size 34 is actually a size 36. Let's say you were to put in a size 34 for a brand. Depending on the brand you choose, the search engine will popup and find the right sizing for you but what's displayed will be size 36.  By inputting these measures, it removes brands that only offer limited sizings and online information that's not addressed. In other words, by denying in participating with the size expansion movement, brands are unable to get any exposure on Nordstrom who don't support the cause.
Nordstrom's size expansion has a large market that is growing 6% a year, with a market size of $US 22 billion. Since the promoting of its size strategy, the company says it is short of stocks in sizes 14, 16, and 18. This clearly represents the demand of plus sizes, and if there's a place where plus-sized customers can get their basic items on a daily basis, the possibility that there will be new demand for trend items create an opportunity to increase the range of customers in fashion.
The launch of denim brand "Good American" in 2016 co-founded by Khloé Kardashian and Nordstrom, emphasized on meeting the demands for a wide range of sizes 00 to 24. That is exactly the reason why the company has stepped up its size expansion. Brands that are not going to expand their size due to lack of demand, materials, and design skills will not be able to ignore the plus size market without the expectation of an increase in existing customers demands.
* American size notation, 00 corresponds to Japanese XXS, 24 corresponds to XXXL
** Research from the NDP group
Minoru Mami

Fashion weather forecaster