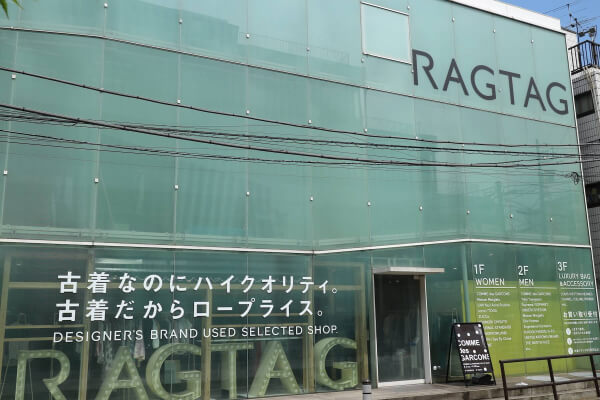 On Monday June 19th, Mercari second-hand online shopping is drawing attention in the secondary distribution market and is approaching the market size of 2 trillion yen (est. US$ 18 billion) listed on TSE Mothers. The public open price per share on June 11th was determined to be 3000 yen (est. US$27). According to the market capitalization, the total price is as high as  414.5 billion yen (est. US$ 3.7 billion). Looking at the movement of secondary distributions in the fashion industry, apparel company, World Co.,Ltd. acquired Tin Pan Alley Inc. who operates vintage second hand select shop, RAGTAG this year in April.
In 1985, Naoki Takahashi, founder of Tin Pan Array, opened RAGTAG at Takeshita street in Harajuku, Tokyo. By chance, he overheard high school girls who were chattering away at high-end brand stores,  "This is cute, but I guess with our money we can't afford it."
Thinking through, he decided to open a store that stocked second hand designer branded clothes to meet the longing voices he heard.
In addition to the 14 domestic RAGTAG stores, (Shibuya, Harajuku, Shinjuku, Shinjuku Marui Annex, Shimokitazawa, Kichijoji, Nagoya Parco, LUCUA, Umeda store, Shinsaibashi, Namba Parks, Tennoji Mio, Kobe, Fukuoka Parco) another two stores were opened in Ginza and Fukuoka that caters towards 40 to 60 year olds called "rt" and in the end of March 2017, their sales fiscal was 5.55 million yen (est. US$ 50.4 million). RAGTAG Shibuya store has the largest number of purchases and the sales amount of "rt" Ginza store is the largest, and the number of customers visiting is the first established RAGTAG store in Harajuku has about 2,000 to 3,000 visitors a day. Prior to the era when online shops started in 1999, the number of goods is about 240 thousand products in the industry where the rate of the EC conversion is about 30%.
"The difference with online purchasing is that face-to-face customer service provides an invisible value that can't be evaluated just with accumulating sales data through the net. There's a need for brick-and-mortar business which meets the demands of those who understand this invisible value, especially for high-end brands." says Tin Pan Array's Toyohiro Nakamura from the Sales Planning Department. Currently, more than 100 buyers are enrolled and those who make purchasing evaluations are required to have a wealth of product knowledge along with careful budget assessments when buying vintage clothes. Toyohiro Nakamura also stated, "It's difficult to convey the merit of the brand with secondary distribution services of CtoC like Mercari. For example in BtoC, when conveying information to the customers, there's an added value to the goods that customers might not have knowledge of."
Although still hovering at the stage in repeated discussions, World Co., Inc. wants to create a market that provides valuable clothes regardless of it being new or used.
Recently, the influence of secondary distribution has significantly increased and there are still many who think that this is the cause of damage in commodity values in the primary market. However, contrary to the concerns, 'used' products are becoming effective as a means of catching the attention of the younger crowd. While brands are struggling to increase the number of young fans, collaborations with secondary circulations provides an opportunity to convey the brand values and like RAGTAG, may provide to be the breakthrough.