Global|EC Titans, Alibaba and Yoox Net-a-Porter Establishes Joint Venture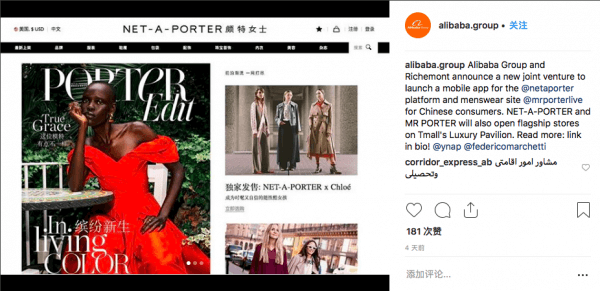 Swiss luxury goods Group, Richemont and China's Alibaba announced the establishment of a global strategic partnership to promote the retail products of YOOX NET-A-PORTER GROUP SpA (hereinafter referred to as YNAP), the world's leading online luxury retailer, to Chinese consumers.
According to the content of this contract, YNAP and Alibaba will establish a joint venture to launch two applications for Chinese consumers to promote the seasonal products sold on NETAP's NET-A-PORTER and MR PORTER websites in China. The partnership will also leverage YNAP's strong links with leading luxury brands to sell approximately 950 brands that are working with YNAP in China. In addition, the joint venture will launch the NET-A-PORTER and MR PORTER online stores at Alibaba's Tmall Luxury Pavilion. Launched in 2017, Luxury Pavilion is an exclusive sales platform for the world's top luxury brands, offering consumers an exclusive shopping experience comparable to offline stores.
For this cooperation, Daniel Zhang, CEO of Alibaba Group, said: "This multi-faceted partnership will bring unprecedented luxury shopping experience to Chinese consumers. It is estimated that by 2025, nearly half of the global luxury goods market will come from Chinese consumers. Through this cooperation, Alibaba and YNAP will be better able to seize this market opportunity to further meet the needs of more than 600 million Alibaba users. "
YNAP is a merger of YOOX, an Italian luxury e-commerce company founded in 2000. NET-A-PORTER, a British luxury e-commerce company is owned by the Richemont Group. In May of this year, Richemont Group acquired YNAP in a comprehensive manner, and in June, YNAP officially became a non-listed company. According to the final financial report of YNAP, Yoox Net-a-Porter sales increased by 11.8% year-on-year to 2.1 billion euros in the fiscal year ending December 31; for the first time in history exceeded 2 billion euros.