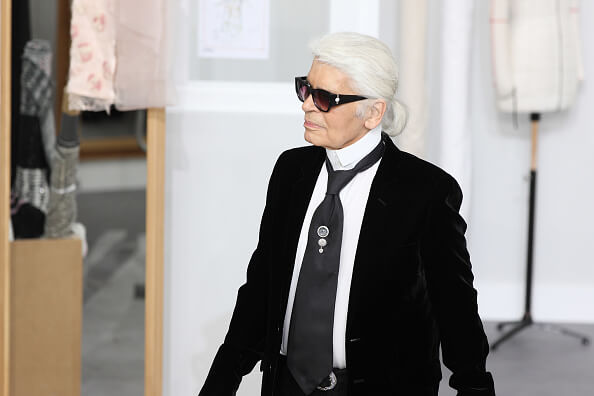 Designer Karl Lagerfeld died on Feb.19 at a hospital in Paris. He was 85 years old. As chief designer, his absence at Chanel's Spring and Summer 2019 Haute Couture finale in January was a first and the growing concerns became an eventual reality. Serving as chief designer also at Fendi, it seemed like another ordinary day with Karl preparing for the 2019 - 20 Autumn / Winter pre-collection when he suddenly passed away. Along with Giorgio Armani (born July 11, 1934), he was one of the second oldest and revered individual in the European fashion, and indeed, the passing of a genius in the industry feels like a loss of one generation.
Karl started to work at "Chanel" in 1983, revived the previous declining brand converting it in a short span of time in to the mainstream. After 36 years, the brand became "Karl Lagerfeld's Chanel" which continued his reign in the fashion world. Karl has already been active as designer for Fendi women's pret-a-porter based in Rome since 1965. He spoke with humor proclaiming, "I am a mercenary designer." With someone of his caliber, he created his eponymous brand KARL LAGERFELD, but at the moment the licensed brand is hanging by a thin thread.
Within fashion history, Karl's very quote as a 'mercenary designer' rings true as he inherited Chanel's DNA breathing life into the brand through suited for the modern generation. In the 1990s, it became a widely known phenomenon where for example, Tom Ford was appointed as artistic director of GUCCI (1994), Marc Jacobs as creative director of Louis Vuitton (1997) and John Galliano as artistic director for DIOR in 1996.
The DNA that the brand has cultivated over many years is thanks to its archives and orders books from its patrons, but incorporating the modern elements by adding a casual and street sense into the idea of a luxury brand is a technique LVMH and Kering Group established through the core branding. For example, Bernard Arnaud who's currently leading LVMH, acquired Christian Dior in 1984 and Louis Vuitton in 1989 has now an annual revenue of US$ 45 billion. It was Karl Lagerfeld who once became the designer of Chanel in 1983, invented the method of "luxury". Nicolas Ghesquiere, who is currently the artistic director of Louis Vuitton, has been recently reported that he'll start his own brand with the permission and support of LVMH; living up to the standards of a "mercenary designer". Nowadays, many lament that emerging designers dream of establishing their own brands not to succeed, but to be established as a successful creative director just to earn more revenue. This maybe both the merits and demerits as an established designer such as Karl.
As for the successor to Chanel, they quickly appointed their creative studio director, Virginie Viard who appeared in the finale on Karl's behalf during his absence. Although it's unknown whether or not she's a relief pitcher, the appointment of creative directors usually follow the methodology of introducing the 'star' designer creating fuss and sensation as Chanel must have a favorite candidate to succeed Karl. Chief designers such as Alber Elbaz and Jean Paul Gaultier seem to be favourable candidates at the moment, as you see, Chanel is a national treasure to the French.
In any case for the past 36 years, as the genius of fashion who up until now lead the fashion industry, his death concerns a likelihood of dissonance that's about to come in the next decade.