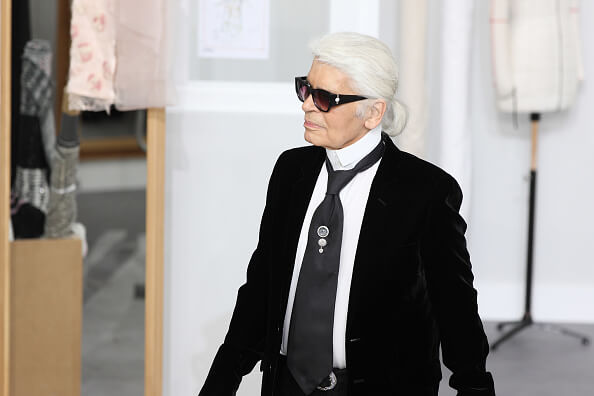 Chanel's couture runway show as always is the highlight of the Haute Couture Week in Paris from Jan. 21 to Jan. 24 and with no exceptions, all eyes are on the Spring/Summer 2019. However, this time it wasn't about the collections. It was designer Karl Lagerfeld (born Aug. 10, 1933) who usually greeted guests and remained cheery until the end did not appear in both shows. The 85-year-old designer's absence for the first time ever has triggered many speculations.
The Grand Palais was covered in snow on Jan. 22 in Paris, but that did not hinder Chanel from holding their couture shows scheduled at 10 am and 12 noon (local time in Paris). At the end of the first show, an announcement was made by the sound designer, Michel Gaubert claimed that Lagerfeld would appear for the second one. Counter to expectations, the bow at the second show was not taken by Lagerfeld but his right-hand, Virginie Viard, the fashion studio director. According to Harper's BAZAAR, Chanel said in a statement that "Mr. Lagerfeld who was feeling tired asked Virginie Viard to represent him", adding that "Virginie Viard as creative studio director and Eric Pfrunder as Chanel's image director continue to work with him and follow through with the brand's collections and campaigns," ending the announcement with, "We wish Mr. Lagerfeld recovers quickly".
At the age of 85, what does his absence actually imply? For Chanel's fashion shows of its haute coutures or ready-to-wear, or even for the FENDI Women's Fashion Show during the Milan fashion week, Lagerfeld's appearance at the end of the show is more than just a greeting but akin to establishing a particular season. More importantly, the fashion curtain call is considered as the most significant part of the runway show. People may start raising suspicion with the designer's absence.  Nevertheless, Giorgio Armani (aged 84) and Mr. Lagerfeld are designated as living national treasures essential in the fashion industry. I hope this would not be the beginning of the end.