China|TOPSHOP and TOPMAN Withdrawal from the Chinese Market?Tmall Closes All Stores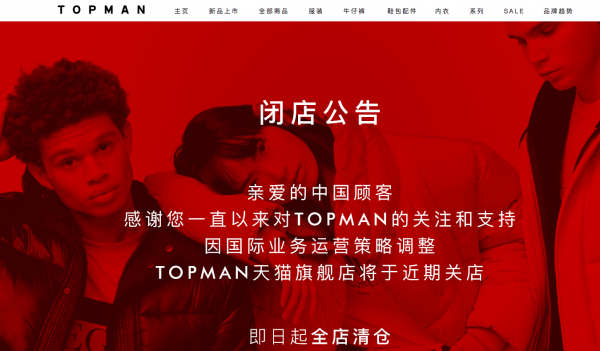 At the time when major brands were hanging up signs for the upcoming "Singles Day" sales festivities, British clothing retailer Arcadia Group subsidiary brands TOPSHOP and TOPMAN announced the closing of its Tmall flagship store.
Arcadia Group and Shangpin.com reached a cooperation in 2014. In September of the same year, TOPSHOP opened a flagship store in Shangpin. In November, it opened a flagship store in Tmall along with TOPMAN who also entered Tmall in 2015. In 2016, the two sides began to cooperate on offline development. The plan was to open five Topshop or Topman stores to test the waters. If the development was successful, the domestic retail scale will be expanded to 80 stores. In August of this year, Arcadia Group announced that it has reached a mutual agreement with China's franchise partner, Beijing Shangpin Baizi E-Commerce Co., Ltd. (Shangpin.com), which will end the four-year cooperation before the end of this year. The original flagship store planned to open in mainland China during September, but is has now been terminated.
A spokesperson from the Arcadia Group says that China is still an "extremely important market" for the group's development and will continue to explore other opportunities to expand its business in China. However, TOPSHOP and TOPMAN have yet to open their own website in China, and the flagship store of Tmall and shangping.com, which were the only purchase routes in China are now also closed.
Ichiro Kumegawa

Contributor at SEVENTIE TWO