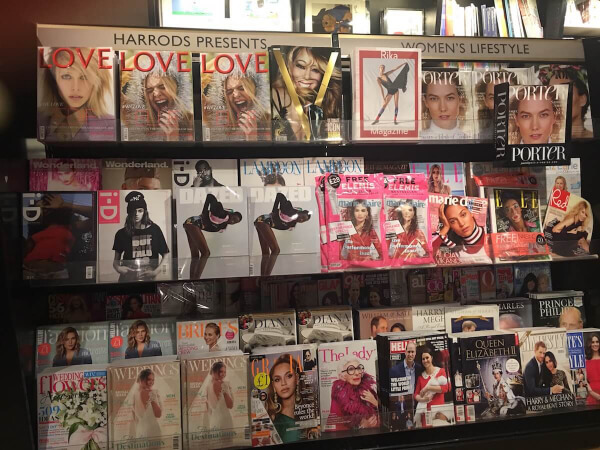 In our digital focussed world, the failing fortunes of print media seems somewhat inevitable. But the last few years has been bad by anyone's standards. The most recent casualty of the so-called print apocalypse was the influential weekly music magazine NME, which ceased publication in March after almost seven decades and moved to an online-only model after its owners declared print to no longer be financially viable.
Glamour magazine – which was the UK's 10th  most popular paid for title – announced late last year that it was to implement a 'digital first' strategy that will see that fashion title swap its monthly magazine print run in favour of biannual collectors editions. The news followed fashion monthly InStyle's move to online-only in 2016, a path also taken by the only-mighty men's magazine FHM in 2015 as well as teen magazines Sugar and Bliss.
And with news that the sales of the top 100 paid-for titles fell a dramatic 42 per cent (from 23.8m to 13.9m between 2010 and 2017, the long-term prospects for the remaining print publications don't look rosy. According to analysts, even fashion behemoth Vogue – now headed up by former W Magazine Edward Enninful – and Harper's Bazaar are seeing readers and advertisers gravitate to online. But can innovation halt the march? The UK version of Cosmopolitan is one of the rare success stories. Editor is chief Farrah Storr is quoted as saying she looked beyond the usual glossies while identifying her competitors after taking the helm in late 2015, instead picking out YouTube, Net-a-Porter and Facebook as the prime culprits responsible in stealing ad sales and readers. Her rebranded mag featured an integrated digital and social media focus (it's Snapchat channel generates 19m views per month), revamped content as well as a reduced cover price. Within a year her efforts returned the title to the number one best-selling women's magazine slot for the first time in 17 years. Within two she had doubled the magazine's circulation. Innovation helped Marie Claire's circulation rise two per cent year-old year: a feat said to be thanks to reader events and its distribution activity with the beauty arm it launched in with online supermarket Ocado in 2016.  
But it's not just mass-market where wins are possible. Independent and niche magazines are thriving, with some commentators heralding their good health as a 'print renaissance.' For a case in point see the continued success of biannual The Gentlewoman, known for its intelligent take on fashion and culture, which boasts a circulation of just under 100,000, as well as the news that next month RC publishing will launch Modern Woman magazine, a publication that aims to address the issues at the core of new wave feminism. The freemium model, where magazines subsist solely on advertising sales and partnerships, is another success story. The weekly free magazine Stylist and its stablemate, the men's style magazine Shortlist are holding their own, with circulations of 400,000 and 500,000 respectively. The latest high-profile freemium launch was men's style quarterly The Jackal, which has a distribution of almost 100,000. In February it was shortlisted for one of Walpole's prestigious Brands of Tomorrow programme and its popularity has lead its owners to launch a subscription service.