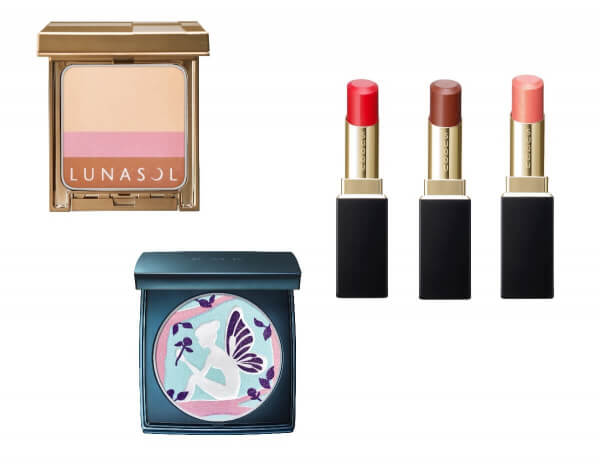 In China, SUQQU is the cream of the crop in cosmetics and it's associated with a woman who is graceful and independent. For the AW 2018 collection concept makeup, "The Beauties of Nature" seeks its inspiration from the setting sun, late autumn maple leaves and cool autumn nights that boldy incorporates vibrant colour and luster. Their popular eyeshadow palette quad "Designing Color Eyes" is coming out with three limited edition palettes that transcribes the colours of each season. Other limited time items such as lipsticks, nail polishes, and blush is within the collection, however this season's new liquid eyeshadow takes the spotlight. It comes in six shades and it's long lasting, practical, furthermore, with just one colour, it blends out beautifully in a fine micro pigmented gradation giving a three-dimensional finish. The collection will be on sale on August 3rd 2018.
The theme of RMK AW 2018 series releasing on August 10th 2018, "Glow In The Dark" draws the imagery of a midnight garden lit under the moonlight that is enchanted by fairies and luminous flowers giving an air of mysterious gothic undertones. A fairy motif finishing powder compact has three different shades in the palette that provides a shimmery semi-matte finish. The lipsticks and glosses have a beautiful marbling pigment that reminds us of lollipop coated lip finish that's not overbearing but has a translucent shine. The eye shadows come in a set of four colour quads and is interchangeable from a casual daytime to a sexy night look and a red-violet eyeshadow palette exclusively at Isetan Shinjuku Store is a definite wicked look.
Luxury beauty brand Clé de Peau Beauté (CPB) is releasing a collection of new lipsticks including the brand's first cushion foundation. This time, the all new lipsticks, "Lipstick Cashmere" is inspired by the inviting softness of the said fabric that leaves a luxurious texture that's soft, matte, and pigmented. The flexible and light transfusion powders in the product move with the lips so that fine lines don't appear and is blended with Illuminating Hydro-Wrap Complex and blended argan oil that comes in eight matte shades. CPB also released a lip cream, "Lip Glorifier" that responds to amino acid levels in the lips to release a soft pink, which enhances the lip's natural shade. Though this time, the focus is on CPB's first, "Teint Cushion Éclat Radiant Cushion Foundation". It's formula has an adhesive property that is hydrating, buildable and provides a fine, textured finish that works to reduce the appearance of damage caused by environmental stress. The lip collection is debuting on July 21st 2018 and the cushion on September 21st 2018.
Another hit brand that garnered attention in China was Lunasol's earthy coloured eye shadows released this year, "Dry Summer Colors 2018 Summer Collection". A theme that  describes the arid-desert drylands using brilliant metallic smoky ore shades. Eyeshadows come in quads that's easy for daily wear along with six limited cream type monochrome shadows that complement each other. Other products released includes creamy matte lip liquids, metallic eyeliners, nail polishes, and face contouring palette. The products were released on May 11th 2018.