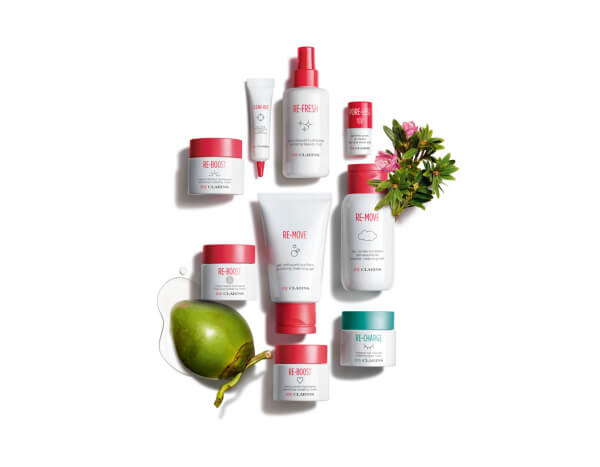 From CLARINS, a new skin care line "My CLARINS" debuts. The Clarins official online shop has been released prior to March 26 and will be sold at some stores from April 26.
"My CLARINS" is a simple step skin care created from the perfect balance of plant and fruit origins. Under the new concept of "IN & OUT", the ingredients gives necessary nutrients for the skin and drains out excess cells. Formulated with coconut water and alpine rose, they nourish the skin cells and at the same time drain out unwanted cells. Besides this, it also contains acerola seed, strawberry tree, moringa, to cope with any skin condition such as dry, combination, or oily giving off fresh, glowing skin.
The line-up has two types of cleansing: milk type (2,300 yen + tax) and gel type (2,500 yen + tax), a mist type lotion (2,600 yen + tax), 3 types of moisturizing creams for different skin conditions (each 3,200 yen + tax), moisturizing facial mask for the night to nourish the skin (3,400 yen + tax), an essence (2,200 yen + tax) that allows the skin to become evenly textured, and last but not least, a make-up base (2,200 yen + tax); a total of nine items. All products are made of 88% natural origins to create beautiful skin that permeates inside out.