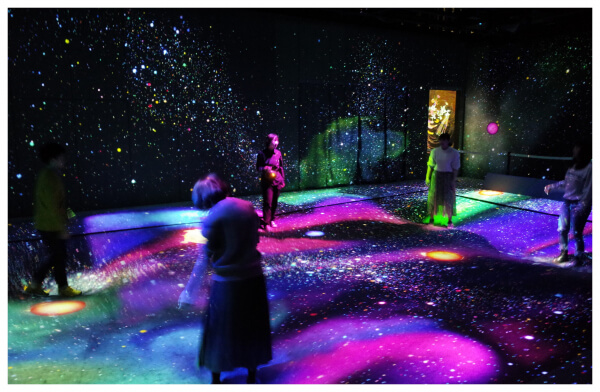 Many of those familiar with digital art might recognize the works of art techie group, teamlab known for their interactive dreamscape visuals. Opening two permanent exhibitions during the summer of last year, teamlab introduces 'Borderless' in Odaiba and 'Planets' in Toyosu which are in hindsight only two stations apart from each other. Both locations provide a body immersive experience in a 360 degree environment involving light sensory. I highly suggest visiting on separate days if you get motion sickness easily and to wear pants that can be rolled knee high up (you'll know why after).
Teamlab Borderless is a large wandering labyrinth decked out in light spectacles in different themed rooms. With no light from the outside world, it's hard to tell how long you've spent inside, so be sure to set aside a few hours.
Borderless has five sections: Borderless World, Athletics Forest, Future Park, Forest of Lamps and the En Tea house. All digital art shown in the rooms move organically, meaning that the algorithm changes with audience participation through 'smart learning' therefore there's always something a little new to anticipate with each visit. Some rooms do include mirrors and as a fair warning, wearing a skirt means, 'showing up' your rear end instead. Whether it's controlling the colours in the exhibits through the app phone or simply admiring free floating whales and endless blooming flowers, the Athletics Forest was my personal favorite; create planets by jumping on a galactic trampoline or bust through a fruit field on a large slide.
Teamlab Planets on the other hand is the opposite of Borderless where there's a more sense of direction. Before entering, you'll be given a plastic zip case to insure your smartphone stays alive throughout and other personal belongings must be stowed away in the locker room. Here, you'll be tunneling room to room experiencing different sensations: wading through knee-high depths in water with luminescent koi fishes, or making your way through a terrain of sinking mounds of tempurpedic-like mattresses known as the 'soft black hole'. One of many Instagram worthy spaces in this exhibit (other than the infamous dangling LED light space) is the 'expanding three-dimensional existence in transforming space' that's filled with hue changing floating balls.
If you're feeling hungry halfway, re-entry is possible on the same day as long as you tell the staff. Some exhibit rooms do involve a bit of extracurricular activity (climbing stairs, jumping, bouldering, etc.) therefore, keep in mind it might not be for everyone and to ask the staff beforehand if you need particular arrangements.