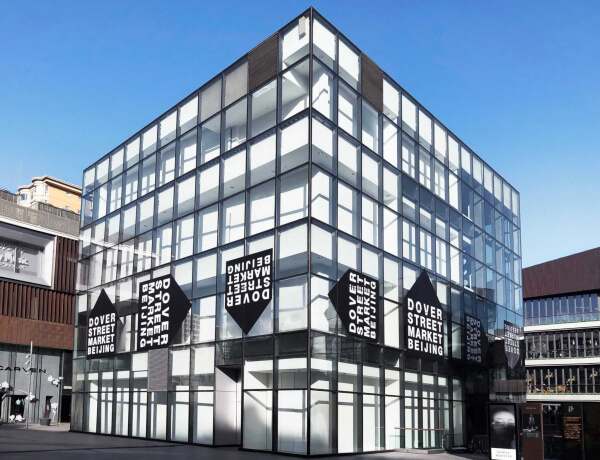 The COMME des GARÇONS company's brand business who owns both in wholesale and its retail business, DOVER STREET MARKET have been the two supporting pillars of its namesake COMME des GARÇONS. Founding designer and president, Rei Kawakubo, Dover street also stocks 17 different brands of women's and men's wear, such as brand "PLAY COMME des GARÇONS" which is profiting with inbound tourism along with brands like Yohji Yamamoto and Issey Miyake's Bao Bao who are benefitting as well. Reigning over them all, the three Japanese fashion empires: Comme, Yohji, and Issey reception overseas are positive.
In particular with Dover Street Market which started in 2003 ever since has been growing steadily. Its storefronts have expanded overseas in London, New York, Singapore, Beijing and now, opening it's fifth store this October in Los Angeles. In the future, it'll have an overwhelming presence as a select shop; opening its seventh store that's scheduled to open in the capital city of fashion, Paris. Thanks to the strong performance from Dover and Comme, last year's settlement of accounts were 21.6 billion yen in net sales with a net income of 2.4 billion yen according to Teikoku Databank which is comparable to the profits made by luxury brands.
Under these circumstances, Comme has finally embarked in the field of ecommerce. As a traditional enterprise, like all other brands can't deny the existence of the virtual era. Needless to say Rei Kawakubo's input into designing presence should stand clear in its first steps in e-commerce. It's ecommerce brand name, "CDG" has a brick-mortar-store in Tokyo (GYRE 2nd floor, Omotesando) and Osaka (Minami Funaba, "Good Design Shop"), each with a retail area of approximately 100 square metres to 55 square metres. At the same time on July 20th when its physical stores had opened, the company also announced its ecommerce opening. The average unit price of products is 25,000 yen, with a total of 25 to 30 items, while the shop front has about 80 items.
With Comme and DSM's achieved successes, will the newly launched e-commerce business CDG be just as successful? We'll just have to see.