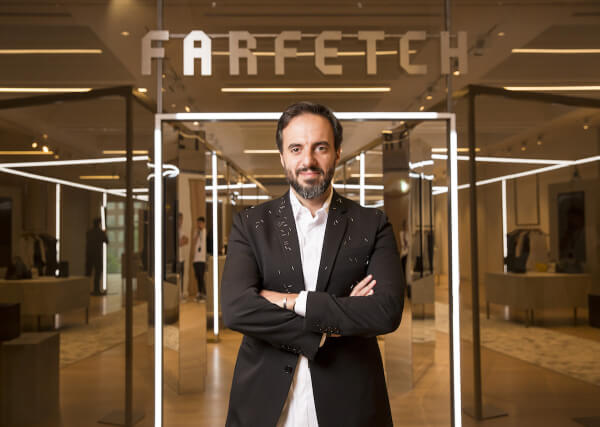 London-based Luxury fashion EC, Farfetch announced its aim to be listed on the New York Stock Exchange by the end of this year.
Plans of the company's listing had been rumored to be talked about for two years, but its market capitalization is likely to be a large-scale project with an anticipation exceeding 6 billion dollars. The details such as the offer price and the number of publicly-held shares are undecided, and cooperating as brokerage lead managers are Goldman Sachs & Co. LLC and J.P.Morgan Securities LLC (JP Morgan) while the remaining companies Credit Suisse Securities (LLC Credit Suisse), Deutsche Bank Securities Inc. (Deutsche Securities) and BNP Paribas Securities Corp. (BNP Paribas) are acting as the underwriters. In June last year, Farfetch raised US$397 million dollars from China's number two EC, JD.com and in February this year, Chanel had given a small sum in investment and started to provide new services from this cooperation.
In 2007, Farfetch's Portuguese-born founder and CEO, Jose Neves launched the EC site has grown into the world's largest luxury EC that handles an approximate of 1000 brands. The company is also one of the few technology companies in Europe with a market capitalization exceeding US$1 billion. "The size of the opportunity is far larger than what Farfetch is today. The luxury industry has been consistently growing at a 6 percent compound rate for the past 20 years, which means — if we assume the same pace of growth — in the next 10 years, it could reach well over US$450 billion," said founder José Neves in a statement. "By then, 25 percent of sales are expected to happen online. We believe the 75 percent of sales still happening in physical retail in 10 years will be revolutionized by digital technologies," he added. "In fact, the distinction between offline and online retail will vanish, as consumers will not be able to tell where one started and the other finished. This is what we call at Farfetch 'augmented retail.'"
Contrary to department stores and existing retail formats that can't withdraw from the negative spirals in the decrease of sales, closures, running in the red etc., Amazon and other EC categories have managed to maintain their performance, especially in the fashion category, with active wealthy consumers who are short on time and into high-end EC shopping. Not only Farfetch but rival companies are accelerating their growth such as the YOOX NET-A-PORTER GROUP S.P.A. who runs NET-A-PORTER , MR PORTER, and THE OUTNET recently began to strengthen their selection of watches from Chopard and Piaget worth US$15,000 aiming to generate sales of 114 million dollars in the jewelry and watch category by 2020. The YOOX Group was acquired by Swiss luxury group, Richemont this year and was abolished from the listing.
In September last year, an apartment investment funded by Apax Partners also acquired a majority stock of British-based luxury EC group Matchesfashion.com for about US$1 billion. The new high-fashion EC, Moda Operandi from New York announced that it raised a new US$165 million worth of funds.
According to Bain & Company, this year's growth rate of the global consumer luxury market is stable at 6 to 8 percent, and by the year 2025 will be at US$446 billion. It's said that there's a possibility in expansion. With this momentum, it's worth looking an eye out for whether or not e-commerce will gradually become the mainstream of people's consumption in luxury goods.