China|China's Largest Menswear Brand, HLA, First Appearance in the Singapore Market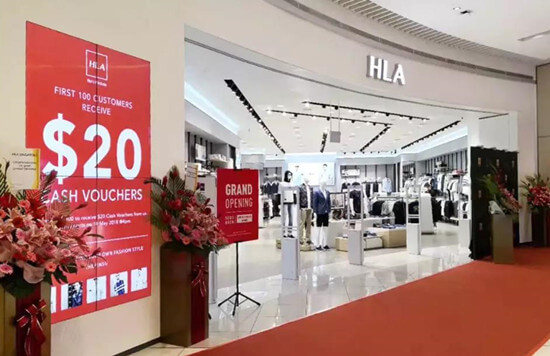 China's first men's brand, Hailan House(HLA) entered the Singapore market for the first time and opened its first store at Suntec City Mallon May 18th. As a leading company for men's wear in China, the development of Hailan House overseas has also accelerated in recent years. HLA is the most influential men's clothing brand in China. From self-selected suits to casual clothing, it provides a rich wide range for Chinese men over the age of 18. According to the 2017 annual report announced by the group has the total sales exceeding RMB 30 billion (approx. US$ 4.6 billion) in 2017. Hailan Home's total operating revenue was RMB 18.2 billion ( approx. US$ 3 billion), an increase of 7.06% year-on-year; operating profit was RMB 4.36 billion (approx. US$68.2 million), which is a 7.04% increase over the same period from last year. The total profit was RMB 4.395 billion (approx. US$ 687 billion) , with a year-by-year increase of 7.06%.
Since entering Kuala Lumpur, Malaysia for the first time in 2017, nine stores have opened in just one year. The main reason for its opening in Singapore is due to the market maturity and high fashion sensitivity. Considered as one step into expanding the brand into the overseas markets.
Since 2017, Hailan House established new 1054 stores and 505 already established stores. By the end of December 2017, the total number of stores have reached 5,792, covering 31 provinces in China and covering more than 80% of the country.