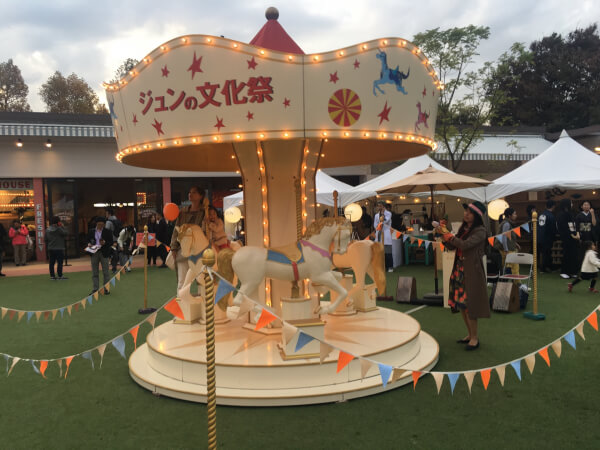 Mid-range apparel maker, JUN is an enterprise said to earn with an annual sales of around 65 billion yen. But what's curious is their constant way of creating interesting spectacles. For example, their chain select shop ADAM ROPE' teamed with celebrity, Rika to create apparel stores like MAISON DE REEFU in Daikanyama and BIOTOPE in Shiroganedai (which by the way are both in rather swanky neighborhoods.)
Recently with an added slogan "You Are Culture" (roughly translated as, "you as an individual making the world a unique place to be") as its ethos, hosting an exhibition equated to a bunkasai or cultural festival which became a widespread topic. "JUN 's Cultural Festival" was held on Nov. 16 until Nov.17 in a vacant lot near the company, with very few or of any you would call an "exhibition" and a merry go round carousel placed in the center of the venue that is free entry. Bonsai, hojicha, the company's original wines Chateau JUN and  SALON adam et rope' 6 food trucks selling pizzas and the like were on site. In addition, martial arts inspired sportswear B.I.F BY NERGY and a Yoga workshop taught by popular model / yoga instructor Rico Ikeda. There's also a ashiyu, a hot spring bath designed for soaking the feet called JUN No Yu (meaning JUN's hot spring) subjugated in front of a movie screen displaying a short film of the company history. "We'd like visitors to understand more of our company and appeal to new recruits." says the company. For this festival, the company selected young executive committee members from its 20 subsidiary brands each, giving them the reigns in planning, advertising, product developing, etc. in order to cultivate its human resources. Furthermore, the festival venue has a shuttle bus that carries its vip customers (about 150 people) to and fro allowing them to browse and purchase their pre-sale spring items. There were also premium sushi from high end restaurants at this venue. A pretty well thought out "cultural festival" if I'd say so myself, as in those 2 days of fine weather and 6000 visitors.
"There might be a possibility using the combination of entertainment retailing." says JUN's president, Susumu Sasaki who spoke at the event. The transition to digital retailing is progressing rapidly and such attempts in using real retailing is compelling.