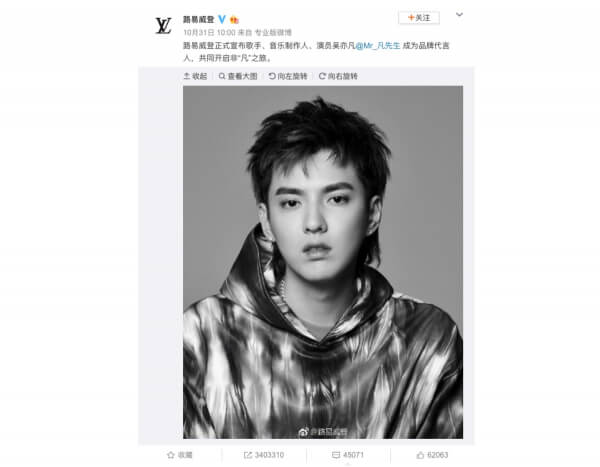 On October 31, Louis Vuitton officially announced on Chinese social media Weibo that singer, music producer and actor, Kris Wu was appointed as brand ambassador for the jointly launched "exceptional journey". Kris then forwarded this announcement on Weibo with a follow up article that wrote, "Extraordinary trip, all the way, welcome to my Antares", "Antares" being his first album released in Nov.
On November 1st, Louis Vuitton launched a promotional video of its "Flight, Sailing, Travel" exhibition with their now new spokesperson. The exhibition will be held in Shanghai from Nov. 16 until Feb. 1, 2019.
In recent years, Kris Wu has been favored by luxury brands becoming the spokespersons of Burberry and LVMH's BVLGARI brands in 2016, as well as the first spokesperson of Hong Kong's multi-brand retail group, IT since 2017. His influence and value have achieved much as of late and in addition, Kris Wu and Louis Vuitton Men's Artistic Director, Virgil Abloh as acquaintances, who has also promoted Kris's new song "Like That" on Twitter in May this year. Whether or not a good move, the rapper's style and character maybe the key to reshaping the brand.