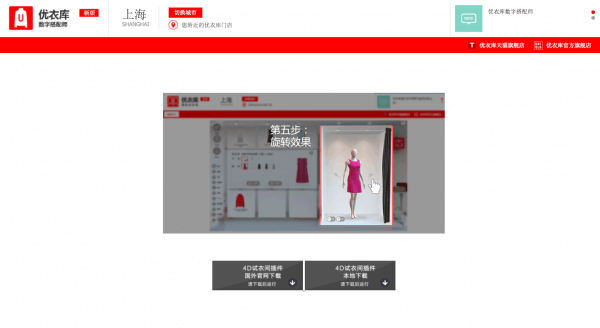 The application of VR(Virtual Reality) technology has gradually made its way into our lives. From military and medical sciences to entertainment, games, and interior designs, with the advent of the online shopping era, VR technology has become popular in the apparel industry. Compared with the brick-and-mortars, the online shopping system is becoming more advanced. A lot of time can be saved on shopping costs, physical work, and due to the rapid growth and development of online stores, the market share of brick-and-mortars scales are smaller. However, physical stores still have the advantage of fitting rooms for customers to try their clothes on. In order to effectively combine the respective advantages of online and physical stores, an 'all-new' type is being introduced in the market: the VR.
Recently in May, ZARAopened a pop-up that uses this experimental store in Roppongi, Tokyo. This shop introduces an app system that combines both merits in using an online store where customers can use their mobiles to scan QR barcodes of the items and prepare them in the fitting rooms without going through the troubles of queuing. The app also allows customers to purchase through net payment or by cash and goods can also be delivered home.
Major companies in the world have already begun to introduce VR virtual fitting technology. As early as 2012, UNIQLOintroduced a virtual fitting system at its new store in San Diego, USA. Customers are able to try on clothes in front of a mirror that's capable of displaying different colours in the same outfits and in 2014, an online UNIQLO 4D virtual fitting launched in China. Users are able to choose a model similar to their body shape and try on different styles of clothing while examining the model in different angles. Just one year after,
China's e-commerce titan, Alibaba Group's Tmall, launched its virtual fitting room in 2015. Alibaba's Taobaoalso launched a 'Buy+' virtual shopping scene in 2016. In the same year, JD.comalso launched its "JD fitting room" for mobile clients. Ebayand Australian retailer, Myeralso launched the world's first VR department store.
The development of VR virtual fitting technology is evolving and on May 29th, Tmall and China's fashion brand, 'Lily' partnered up and opened a brick-and-mortar in Shanghai. They celebrated this as the brand's 16th anniversary which invited many celebrities and KOLs (influencers) to try first hand its virtual fitting technology experience. In the fittings, the system will recommend clothes according to customer preferences upon entering the store. They can try the clothes on through the virtual fitting mirror and can be purchased directly.
In May this year, the Alibaba Group invested in French luxury retailer, ORDREto accelerate it's advances in the VR field and plans to develop a virtual fashion show using this technology. In addition, Amazonacquired Body Labs, a 3D modeling company that supports various b2b software applications in October last year. The company is said to be pending for its patent technology that enables virtual fittings using 3D models of the human body. Amazon's recent developments in the apparel sector is an apparent move in entering the fashion industry.
VR technology in the apparel industry not only solves the problem of fittings, styling and selecting of sizes on online shopping, but it improves the efficiency by using in conjunction the brick-and-mortars and the net shops. VR technology will continue to mature and more brands and companies will utilize this technology in the near future.