Global|Japan, You Need to Step Your Game Up. Tom Ford will be the next Chairman of the CFDA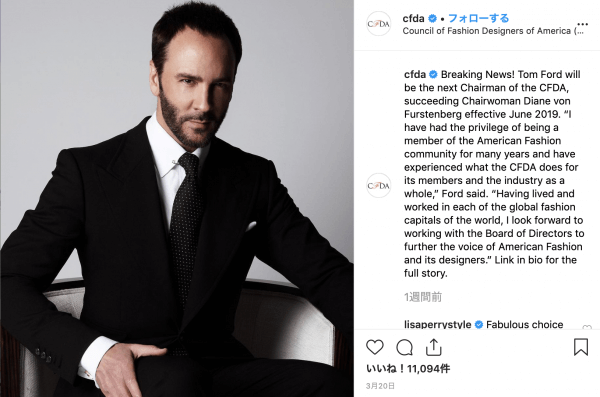 The Council of Fashion Designers of America (CFDA) announced that Tom Ford will be its new chairman in June. Tom Ford will succeed Diane von Furstenberg, who has occupied the role for 13 years. Tom Ford has been presenting his collection for the New York Fashion Week in recent seasons. It's a bit surprising to see Tom Ford interested in this position that's an organization. The CFDA elects only the best with talents like Diane, (who's husband is the wealthy American media mogul, Barry Diller) and now the infamous Tom Ford as their chairman.
As for Japan, we have chairman Atsuo Nakagawa of Japan's Fashion Designer Association (CFD), who has experience in the leading apparel company, Onward Kashiyama as a salary man and has been part of the council at Japan's most well-known fashion school, Bunka Fashion College for years.
Masahiko Miyake who's the chairman of TSI Holdings and president of the Japan Fashion Week Organization (JFW, an organization in charge of promoting fashion week) is in charge of Tokyo Amazon Fashion Week. Miyake is an influential person in the apparel industry without a doubt, but is he a suitable figure as a representative in charge of a venue like Tokyo Amazon Fashion Week? Perhaps the importance of having a leader who has intelligence and influence is crucial, however the general public unless they're into fashion, wouldn't understand or care about people at the top. Just like Tom Ford as the chairman of the CFDA is a perfect example. Perhaps it's about time Japan steps its game up and think about the situation a little more. Things would not be so much as "political" with those at the top but people like Hiroshi Fujiwara working as the top in CFD and JFW would definitely change the status staleness of Tokyo Fashion Week.