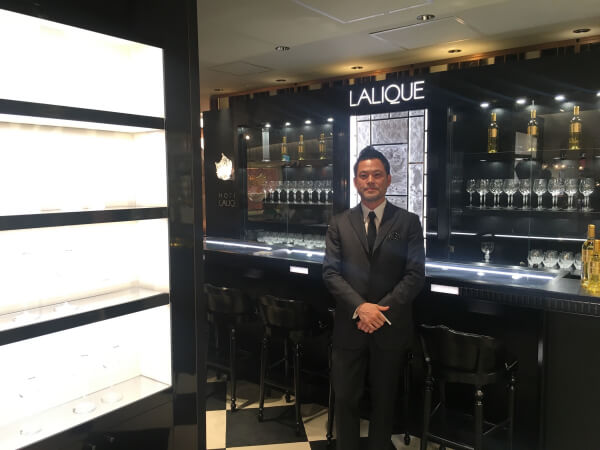 French luxury jewelry brand LALIQUE,  particularly famous for their crystal items, has "jacked" Isetan Shinjuku. First, on the 1st floor of the same store, LALIQUE first jewelry only shop opened on Feb.6, both fine jewelry and fashion jewelry were sold. Two pop-up stores open on the 5th floor with LALIQUE Lifestyle Project Gift Shop, which features high-quality gifts and a 120 square metres luxury space filled with interior decor, furniture, home fragrances, and wines labelled with LALIQUE based on the LALIQUE Hotel Project. This hotel project is a lifestyle style based on the recently opened by the LALIQUE Group's winery, the five star LALIQUE Hotel at the Château La Folliperage in Bordeaux. The set up at Isetan will be available July 2nd. Their Bordeaux wine, "Château Lafaurie-Peyraguey" (established 400 years ago) is sold at the Grand Cave in the food section on the ground floor of Isetan Shinjuku.
In addition to the shops, Isetan Shinjuku display window introduces the story and history of LALIQUE celebrating their 130th anniversary with four pink pillars in the center of the first floor display. Even the visual galleries have LALIQUE all over; appearing on digital screens of the underground concourse following the escalator signs at the Tokyo Metro Shinjuku 3 chome Station and Shinjuku Station (April 1 to 7).
In such a way, Isetan Shinjuku and its surroundings have been "hijacked" by LALIQUE.  It was Akihisa Zako, president of LALIQUE Japan who established the group in January of last year. Switzerland-based Art and Fragrance has purchased the LALIQUE Group for 1004 (€ 44 million) to make the global strategy a reality and by painting Isetan in a LALIQUE tone for the first steps of their strategy in Japan. In the 1980s, LALIQUE was established by Japanese corporation with Sogo's investment, but due to Sogo's failure, the brand didn't take off full-scale and Baccarat who appeared at the same time, seized Japan's market as the reigning crystal luxury brand. LALIQUE's recovery and ambition is an interesting tailwind to look forward to in the future.