Global| Givenchy Fall Makeup 2018: the New Limited Edition Galactical Collection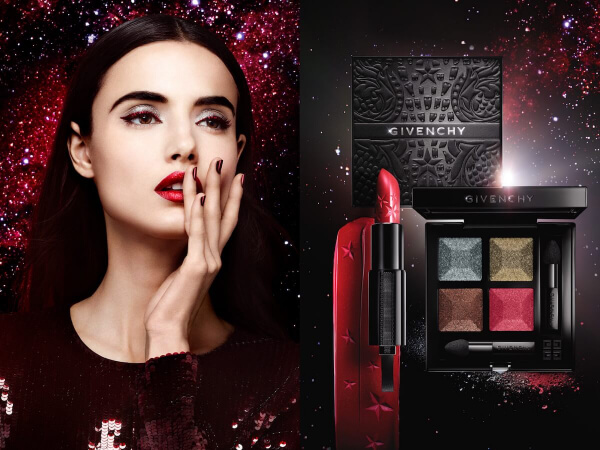 Givenchy's new autumn 2018 collection surround the theme of "MIDNIGHT SKIES", that's inspired by our universe of glowing stars in red and black, highlighting the autumn celestials. Reflecting upon Givenchy's couture dresses, the beautiful crimson appears in this limited edition series that includes a quad of eye shadow discs, lipstick, nail polish, liquid eyeliner, and mascara.
The quad eye shadow palette also named after the collection's name, "MIDNIGHT SKIES", offers a deep-toned blend of silvery-gray, gold-toned, and chocolate brown iridescent pearls. The bright scarlet tones have always been the highlight for the past few years and the limited time leather packaging adds to the charm of the collection. The limited edition red lipstick, No.26 MIDNIGHT RED has a printed pattern of stars and the texture is velvety smooth with infused black rose oil that gives the lips a nourishing finish. Why not add a touch feminine fatale using the dark red liquid eyeliner and mascara for the fall season?
This series is available at Givenchy counters in Japan on August 3rd.