10 Days and Already 3.36 Million Retweets? China's Popular Idol Group, ONER to be PECHOIN's Brand Ambassador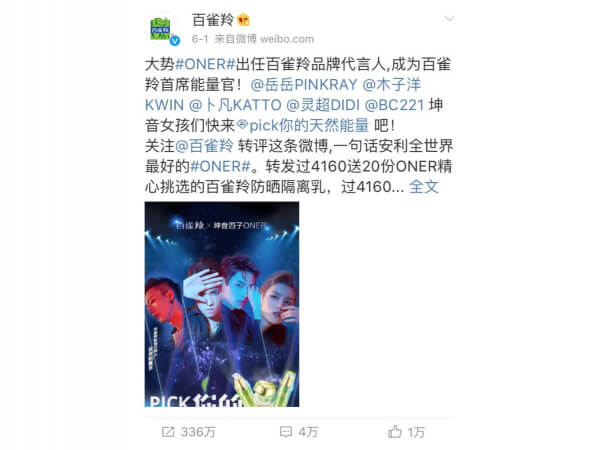 On June 1st 2018, China's skin care brand, Baique Ling (aka PECHOIN) announced on its official SNS Weibo page that China's popular idol group, ONER will be the brand's spokesperson. Within one day, Weibo had re-posts of over 1 million and as of June 10th, the amount of re-posting has reached more than 3.36 million.
The four members of the ONER group: Muzi Yang, Ling Chao, Yue Yue, and Bu Fan were former BC221 trainees, a brand part of QIN's ENTERTAINMENT, an Idol incubation company based in China. The members participated in a competition in the TV show, "Idol Producer" which gave the the exposure that they need and even though they were not voted into the finals, their popularity skyrocketed and on April 16th, news of their debut were posted on the official Weibo site announcing their formal debut as ONER at a conference in August this year.