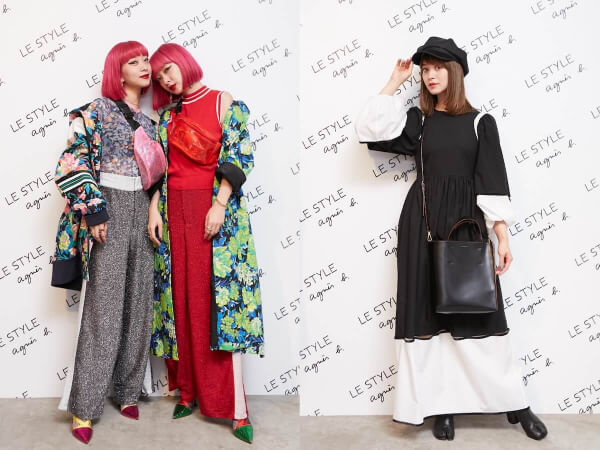 agnès b. held their event "agnès b. STYLE, NOT FASHION" on April 6th gathering fashion and culture icons in their style as a opening head way for "LE STYLE Campaign" that will start on April 11th.
At the venue, young Japanese artists and creators exhibit their creativity in booths and guests symbolic to Japan's youth culture joined the mish mash at the Marché for one night. Guests include Tavi Gevinson, editor-in-chief of Rookie magazine.
The booths had artist TONDABAYASHI RAN who provided customizable silk screen printing illustrations and musician MEIRIN aka ZOMBIE-CHANG  who used music that she wrote to create an installation. agnès b. showed their concept in work wear expressing the creation roots of the brand in different individual styles for the "LE STYLE" campaign. For the campaign, they coordinated railroad jackets with iconic pieces such as the sailor striped T-shirts and printed logo T - shirts. The campaign shop is only opened for a limited-time in all agnès b. stores and major department stores throughout Japan.
Campaign site: www.agnesb.co.jp
Campaign period: April 11th - May 8th
【Limited time shop opening information】
4/11 (Wed) - 4/17 (Tue): Shinjuku Isetan Main Building 2F , The Stage # 2
4/11 (Wednesday) - 4/17 (Tue): Shinjuku Isetan Men's House 6F, Event Space
4/17 (Tue) - 4/23 (Monday): Yokohama Sogo 3F, Central escalator, Umigawa Promotion Space
4/18 (Wed) - 4/24 (Tue): Fukuoka Iwataya Main Building 2F , Real style
4/19 (Thu) - 5/2 (Wednesday): Ikebukuro Tobu 3F, Stage T-3
4/25 (Wed) - 5/1 (Tue): Isetan Kyoto 3F , Stage # 3