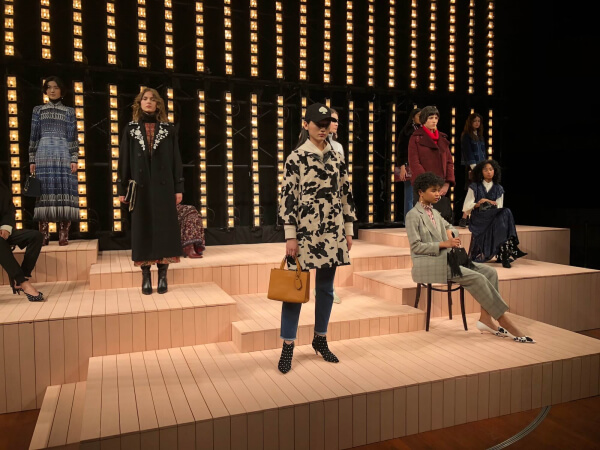 Creative Director of "Kate Spade New York", Nicola Glass presented the autumn 2018 collection on June 7th Club eX of Shinagawa Prince Hotel. Celebrating the 25th anniversary of the company's founding, the collection was inspired by the one year travel across America and revolves around the country-music rich settings of Nashville, Tennessee. Consisting of deep blues, pale pinks, warm and calming colour palettes of brown autumn leaves, fusing feminine silhouettes and menswear influences. In addition, the iconic model bag, "Sam" designed in 1993, has an all new modern take that uses Suede and Mouton (Sheepskin).
With Kate Spade's tragedy a week ago, staffs at the event wore velvet black ribbon pinned to their chests to express their condolences passed notes to attendees inscribed, "Kate Spade herself left the brand more than a decade ago. We are proud of the global view and philosophy that Kate has created for "Kate Spade New York" and all the beautiful creations brought to this world. We mourn for her passing and our thoughts are with her family. She will continue to live in our hearts and today, we hope that while you're here at this installation that you'll keep her close and remember her for even just a short while."
Kate Spade & Company was acquired by Tapestry Inc. in 2017, however Kate Spade Japan Co., Ltd. will continue to operate independently for the time being.