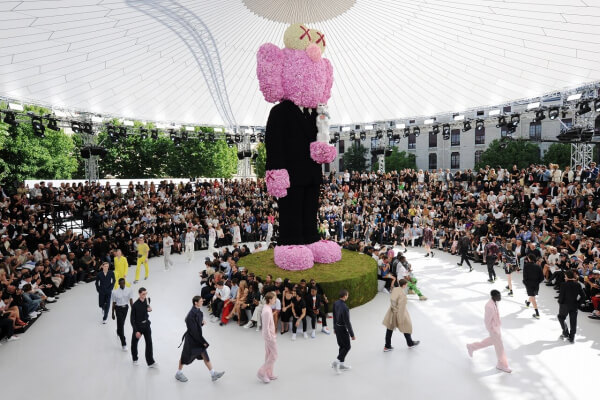 Dior announced the first men's 2019 summer collection after appointing Artistic Director Kim Jones on June 23rd. Changing the brand name from "Dior Homme" to "Dior", both mens and womens wear will merge under the same name.
The collection was inspired by founder, Christian Dior's autobiography, 'Christian Dior & moi.' Mr. Dior's personal life and the archives of what the maison symbolizes pays a double homage to the haute couture house where his love of flowers and colour hues plays a role in Kim Jones inaugural collection. In addition to Yoon Ahn of "ambush" who took over as the accessory designer of "DIOR", Matthew Williams (designer of ALYX) and British milliner, Stephen Jones have also participated in the collection.
More than 1,000 guests, including Virgil Abloh, Karl Lagerfeld, Bella Hadid attended even the royalty; Denmark's Prince Nikolai who opened the show on the runway held at the Garde républicaine, the home of Paris's gendarmerie. At the venue, a huge "BFF" statue was erected by Kaws, a contemporary artist who used about 70,000 flowers for the show. In addition to the special version of "BFF", Kaws also designed a collaboration piece "BEE" motif as the brand icon.