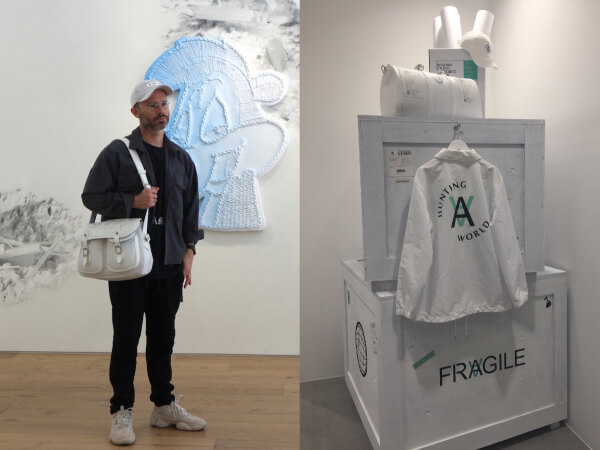 New York based contemporary artist, Daniel Arsham known to have collaborated with the likes of Pharrell Williams, Merce Cunningham Dance Company, Addidas, and now with American brand, HUNTING WORLD will be exclusively online and in stores at Dover Street Market London, Tokyo, New York, Singapore, Beijing and Kith stores in L.A. and New York from May 26.
Collections include a T-shirt (US$280), a hoodie (US$485), duffel bag and carry-all (US$3990) windbreaker jacket (US$925), cap (US$445) in an all white aesthetic printed with the collaboration names in bold typeface logos.
"Applying the language that I use in my studio and integrating it with the travelling components that matches the brand's assets," said Arsham as he graciously showed us the carryall he had with him during his art exhibit opening in Tokyo on May 22nd. "I've been traveling so much, this sort of thing just fits into my universe."
Explorer Robert M. Lee in 1945, New York, founded HUNTING WORLD to provide lightweight, durable, multifunctional bags for his expeditions. Currently, Yosuke Aizawa, founder and designer of White Mountaineering brand is the new head of the creative team.
Arsham is also currently showing his art exhibition in Tokyo at PERROTIN TOKYO and NANZUKA.