Aiming for the World Cup, Adidas Collaborates with 3 Representative Brands of Japan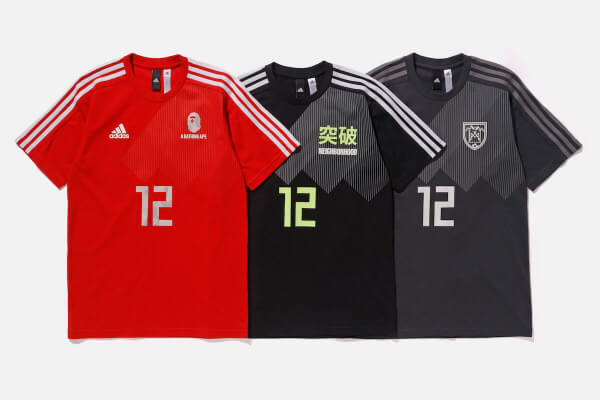 With the upcoming 2018 FIFA World Cup Russia ™ held on June 14th, adidas's collaboration with A BATHING APE®, NEIGHBORHOOD®, and White Mountaineering are taking a spin off from the Japanese football uniforms to create designs representing colours that will lead the road to victory. Though the official launch takes place on May 30th, pop-up shop, 'Adidas Victory Collection' pre-sale will begin at Isetan Shinjuku Store Men's Pavilion on the first floor until May 29th.
A BATHING APE® was inspired by the Japanese flag, 'Hinomaru' (meaning 'sun disk') and gave it a red solidary finishing for the whole uniform and BAPE® CAMO print, which is synonymous with BAPE®, is casually placed within the number plate in gray.
NEIGHBORHOOD® led by Takizawa Shinsuke uses a black base; common for his brand representation, with a yellow colour scheme to capture the reminiscents of lightning.  A graphic Kanji (Chinese lettering) print of "Toppa", which means 'to rise above or to breakthrough' gives the design an oriental finishing.
White Mountaineering by Yosuke Aizawa who most of the time uses gray cold tones as a key representation of his brand to express a classical and stoic impression that serves the traditional sport.
All winning T - shirts each are 9,990 yen (tax excluded). Other collaborated items include track tops, children's tees, and shoes.