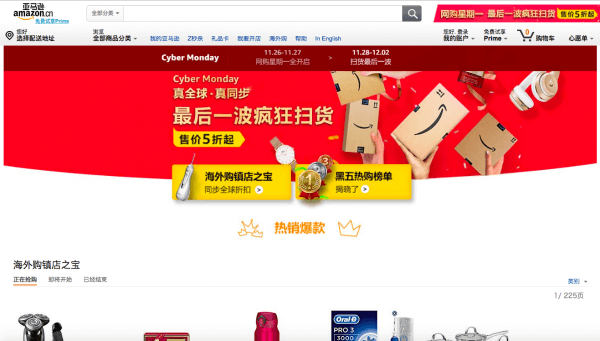 Thanksgiving. The day that marks the official start of the holiday shopping season as one of the most valued and busiest days of the year in North America. Follow suite, China Amazon since 2014 has also launched its "Black Friday" sale and "Cyber ​​Monday". During the Black Friday of Nov. 23 this year, Amazon China and Amazon International purchase hit a record high in just one day. Compared to last year, sales has doubled and this year's "Single's Day" campaign has also increased nearly four times. At the same time, the 23rd created the highest record in a single day of Amazon's sales history.
Among the promotions on Black Friday and Online Shopping Monday, the most popular categories for Prime members are in beauty, books, personal care, shoes, clothing, maternity, baby goods, sports outdoor, kitchen utensils, toys, and interiors. The top brands in overseas sales are: FOREO, Waterpik, Champion, Under Armour, OLAY, Clarks, Calvin Klein, Philips, Neutrogena, and ECCO. The top single items are FOREO LUNA mini 2 face wash, Waterpik's WP-660 Super Professional Floss, Olay 3 point Firming Serum, Nintendo Switch Pikachu Limited Edition, Champion Men T Shirt, Logitech Wireless Bluetooth Mouse, and Casio Men's Watch.
This year on Amazon China's "Cyber Monday" campaign will last until Dec. 2 and from Dec. 7th to 11th, Amazon International channel will offer Japanese brands for a limited time, with other shopping campaigns such as Christmas season, UK special campaign, and New Years campaign and other various promotions.